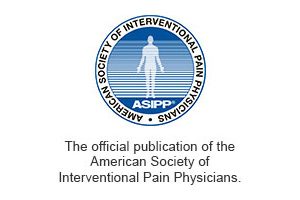 Editor-in-Chief: Alan David Kaye, MD, PhD
Managing Editor: Bert Fellows, MA
Pain Physician is the official publication of the American Society of Interventional Pain Physicians (ASIPP). The open access journal is published 6 times a year.

Pain Physician is a peer-reviewed, multi-disciplinary, open access journal written by and directed to an audience of interventional pain physicians, clinicians and basic scientists with an interest in interventional pain management and pain medicine.

Pain Physician presents the latest studies, research, and information vital to those in the emerging specialty of interventional pain management – and critical to the people they serve.
---
Epidural Guidelines Facet Joint Guidelines IPM Guidelines Regenerative Medicine Guidelines OPIOID Guidelines Risk Stratification Guideline Antithrombotic Guidelines Sedation Guidelines Triaging Guideline BMC Therapy Position Statement
Current issue highlights: (November 2022, Volume 25, Issue 8)
Parameters of Spinal Cord Stimulation in Complex Regional Pain Syndrome: Systematic Review and Meta-analysis of Randomized Controlled Trials
Systematic Review
Elver Ho, BA, Nima Yazdanpanah, DO, Johnson Ho, MD, Benjamin Drukman, BS, Alvin Chang, MD, and Sanjeev Agarwal, MD.
Comparative Effects of Different Epidural Injection Approaches on Lumbosacral Radicular Pain: A Systematic Review and Network Meta-analysis
Systematic Review
Zhihe Yun, MMed, Chenglong Wang, MD, Tong Yu, MD, Tianyang Yuan, MD, Xinyu Nie, MD, Tao He, MMed, Rui Liu, MMed, Junyan An, MMed, Le Qi, MMed, Chen Li, MD, Yang Sun, MD, Jun Zhang, MMed, and Qinyi Liu, MD.
Comparison of the Efficacy of Single-Injection Regional Analgesia Techniques for Total Abdominal Hysterectomy: A Systematic Review and Network Meta-Analysis
Systematic Review
Meng-Chen Tsai, MD, Geng-Hao Bai, MD, Tsung-Yu Hung, MD, Yi-No Kang, PhD, and Wen-Hsuan Hou, MD, PhD.
Painful Diabetic Neuropathy - Spinal Cord Stimulation, Peripheral Nerve Stimulation, Transcutaneous Electrical Nerve Stimulation, and Scrambler Therapy: A Narrative Review
Narrative Review
Eric J. Wang, MD, Lauren E. Berninger, DO, Olga Komargodski, MD, and Thomas J. Smith, MD.
Dorsal Root Ganglion Stimulation for the Management of Phantom Limb Pain: A Scoping Review
Scoping Review
Nivetha Srinivasan, BS, Benjamin Zhou, BS, and Edward Park, MD.
Immunosuppressive Effect of Intrathecal Morphine, Dexmedetomidine, or Both in Combination with Bupivacaine on Patients Undergoing Major Abdominal Cancer Surgery
Randomized Trial
Shereen Mamdouh Kamal, MD, Sahar Abdel-Baky Mohamed, MD, Khaled Mohamed Fares, MD, Rania Mohamed Abdelemam, MD, Heba Mohammed Elmasry, ., and Samar Mansour, ..
Radiofrequency Denervation on Lumbar Facet Joint Pain in the Elderly: A Randomized Controlled Prospective Trial
Randomized Controlled Trial
Yu Si Chen, MD, Botao Liu, MD, Fang Gu, MD, and Lei Sima, MD.
Comparison of Erector Spinae Plane Block at the Level of the Second Thoracic Vertebra With Suprascapular Nerve Block for Postoperative Analgesia in Arthroscopic Shoulder Surgery
Randomized Controlled Trial
Naglaa Fathy Abdelhaleem, MD, Sherien E. Abdelatiff, MD, and Sara M. Abdel Naby, MD.
A Comparison of Anesthetic Quality between Single and Septum-based Double Injection for Ultrasound-Guided Costoclavicular Block: A Randomized Controlled Trial
Randomized Controlled Trial
Mi Geum Lee, MD, PhD, Seung Hyun Chung, MD, PhD, Wol Seon Jung, MD, PhD, Dong Chul Lee, MD, PhD, Kyung Seob Yoon, MD, Jae Chul Koh, MD, PhD, and Hyeon Ju Shin, MD, PhD.
Transforaminal Versus Interlaminar Approach of Full-Endoscopic Lumbar Discectomy Under Local Anesthesia for L5/S1 Disc Herniation: A Randomized Controlled Trial
Randomized Clinical Trial
Zhiheng Chen, MD, Xin Wang, MD, Xiaoyan Cui, RN, BN, Guowang Zhang, MD, Jianguang Xu, MD, and Xiaofeng Lian, MD.