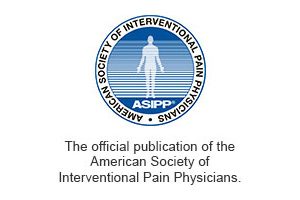 Editor-in-Chief: Alan David Kaye, MD, PhD
Managing Editor: Bert Fellows, MA
Pain Physician is the official publication of the American Society of Interventional Pain Physicians (ASIPP). The open access journal is published 6 times a year.

Pain Physician is a peer-reviewed, multi-disciplinary, open access journal written by and directed to an audience of interventional pain physicians, clinicians and basic scientists with an interest in interventional pain management and pain medicine.

Pain Physician presents the latest studies, research, and information vital to those in the emerging specialty of interventional pain management – and critical to the people they serve.
ASIPP 25th Annual Meeting -Click for a special video invitation - https://vimeo.com/797066159
---
Epidural Guidelines Facet Joint Guidelines IPM Guidelines Regenerative Medicine Guidelines OPIOID Guidelines Risk Stratification Guideline Antithrombotic Guidelines Sedation Guidelines Triaging Guideline BMC Therapy Position Statement
Current issue highlights: (March 2023, Volume 26, Issue 2)
Effectiveness of Transforaminal, Interlaminar, and Caudal Epidural Injections in Lumbosacral Disc Herniation: A Systematic Review and Network Meta-analysis
Systematic Review
Sang Gyu Kwak, PhD, Yoo Jin Choo, MD, Soyoung Kwak, MD, and Min Cheol Chang, MD.
The Utilization of Radiofrequency Techniques for Upper Extremity Pain Management
Narrative Review
Waleed Albishi, MSc, Nasser M. AbuDujain, MBBS, Abdulaziz bin Dakhil, BS, and Meshari Alzeer, BS.
The Prevalence of Perceived Injustice and Factors Associated With Perceived Injustice in People With Pain: A Systematic Review With Meta-analysis
Systematic Review
Eva Roose, MSc, Astrid Lahousse, MSc, Anke Robbeets, BS, Ella Smout, BS, Kenza Mostaqim, MSc, Eva Huysmans, MSc, Jo Nijs, PhD, Paul van Wilgen, PhD, David Beckwee, MSc, Marijke De Couck, PhD, Annick Timmermans, PhD, Rinske Bults, MSc, and Laurence Leysen, PhD.
Postoperative Analgesic Effects of Serratus Anterior Plane Block for Thoracic and Breast Surgery: A Meta-analysis of Randomized Controlled Trials
Systematic Review
Jin Meng, MD, Hong-yan Zhao, MD, Xiao-jun Zhuo, MD, and Qi-hong Shen, MD.
Ultrasound-guided Techniques for Perioperative Analgesia in Pediatric Lower Abdominal Surgeries: Quadratus Lumborum Block with Bupivacaine versus Caudal Bupivacaine and Neostigmine
Randomized Trial
Tarek M. Ashoor, MD, Eman M. Zain, MBBCh, Mostafa K. Reyad, MD, Ahmad M. Hasseb, MD, and Ibrahim M. Esmat, MD.
The Efficacy of Erector Spinae Plane Block Compared With Intrathecal Morphine in Postoperative Analgesia in Patients Undergoing Lumbar Spine Surgery: A Double-blind Prospective Comparative Study
Prospective Study
Atef Mohamed Mahmoud, MD, Safaa Gaber Ragab, MD, Mohamad Ahmed Shawky, MD, Doha Hamad Masry, MSc, and Joseph Makram Botros, MD.
Effect of Different Frequencies of Electroacupuncture on Chronic Low Back Pain in Older Adults: A Triple-blind, Placebo-controlled, Randomized Clinical Trial
Randomized Controlled Trial
Sarina Francescato Torres, MD, Ana Carolina Brandt de Macedo, PhD, Regina Yassue Sakai, Esp, Gabriele Cristina Seguro Bressan, BS, Matheus Bieberback Rodrigues dos Santos, BS, and Amelia Pasqual Marques, PhD.
Does the Choice of Operative Side Affect the Clinical Outcome of Unilateral Percutaneous Kyphoplasty for Osteoporotic Vertebral Compression Fracture?
Prospective Study
Xin Chai, MD, Jiawen Xu, MD, Ying Yao, MD, Jun-Song Yang, MD, Hui Xu, MD, Peng Zou, MD, Tuan-jiang Liu, MD, Lei Chu, MD, Ding-Jun Hao, MD, and Yuan-Ting Zhao, MD.