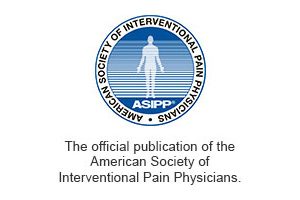 Editor-in-Chief: Alan David Kaye, MD, PhD
Managing Editor: Bert Fellows, MA
Pain Physician is the official publication of the American Society of Interventional Pain Physicians (ASIPP). The open access journal is published 6 times a year.

Pain Physician is a peer-reviewed, multi-disciplinary, open access journal written by and directed to an audience of interventional pain physicians, clinicians and basic scientists with an interest in interventional pain management and pain medicine.

Pain Physician presents the latest studies, research, and information vital to those in the emerging specialty of interventional pain management – and critical to the people they serve.
---
Epidural Guidelines Facet Joint Guidelines IPM Guidelines Regenerative Medicine Guidelines OPIOID Guidelines Risk Stratification Guideline Antithrombotic Guidelines Sedation Guidelines Triaging Guideline BMC Therapy Position Statement
Current issue highlights: (January 2023, Volume 26, Issue 1)
Effect of Dexmedetomidine, Dexamethasone, and Ondansetron on Postoperative Nausea and Vomiting in Children Undergoing Dental Rehabilitation: A Randomized Controlled Trial
Randomized Controlled Trial
Ahmed Abdelaziz A. Shama, MD, Amir Abouzkry Elsayed, MD, Abdulrahman A. Albraithen, ., and Sherif Kamal Arafa, MD.
Does Intraoperative Multi-Drug Wound Infiltration Relieve Postoperative Pain Following Single-Level TLIF Surgery? A Randomized Controlled Trial
Randomized Trial
Chao Li, MD, Yongqin Chen, BD, Kaifei Han, BD, Yujian Zhang, BD, Lei Qi, MD, Xinyu Liu, MD, and Liang Wang, MD.
Ultrasound-Guided Transversus Abdominis Plane Block in Treating Abdominal Skin Tension Pain After Kyphosis Surgery: A Pilot Study in Enhanced Recovery After Surgery Setting
Randomized Controlled Trial
Peipei Huang, MD, Wenrui Ma, MD, Yu Wang, MS, Xiaojuan Shi, MS, Jikun Hao, MS, Zhipeng Tu, MD, Fang Xie, MD, Xuan Li, MS, Zhuojing Luo, MD, and Xueyu Hu, MD.
Training and Credentialing Standards for Minimally Invasive Spinal Surgery Techniques: Results of a SurveyBACKGROUND: The controversy continues on how to best become proficient in contemporary minimally invasive spinal surgery techniques (MISST). Postgrad
Opinion Survey
Kai-Uwe Lewandrowski, MD, Joao Paul Bergamashi, MD, Albert E Telfeian, MD, PhD, Paulo Sergio Teixeira de Carvalho, MD, PhD, and Jorge Felipe Ramirez Leon, MD.
Retrospective Analysis of Clinical Feature in Trigeminal Neuralgia
Retrospective Analysis
Ji Hee Hong, MD, PhD, Jae Yoon Lee, MD, Seung Ju Kim, MD, and Kyeong Hwan Seo, MD.
The Value of the Optic Nerve Sheath Diameter (ONSD) in Predicting Postdural Puncture Headache (PDPH): A Prospective Observational Study
Prospective Study
Qingcai Peng, MB, Jiyuan Wang, MB, Xiaoqiong Xia, BS, Yuanhai Li, MD, PhD, Cheng Qiu, MB, Jun Li, MB, Hongwang Zhou, MB, Yawen Li, MB, and Mingyue Zhang, MB.
Percutaneous Kyphoplasty to Relieve the Rib Region Pain in Osteoporotic Thoracic Vertebral Fracture Patients Without Local Pain of Fractured Vertebra
Retrospective Study
Fanguo Lin, MD, Yuye Zhang, MD, Xiaomei Song, BS, Yanping Niu, MD, Peng Su, MD, Jun Hua, PhD, and Yongming Sun, PhD.