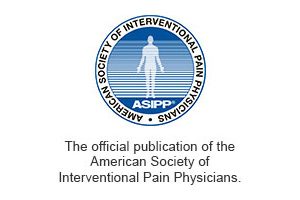 Editor-in-Chief: Alan David Kaye, MD, PhD
Managing Editor: Bert Fellows, MA
Pain Physician is the official publication of the American Society of Interventional Pain Physicians (ASIPP). The open access journal is published 6 times a year.

Pain Physician is a peer-reviewed, multi-disciplinary, open access journal written by and directed to an audience of interventional pain physicians, clinicians and basic scientists with an interest in interventional pain management and pain medicine.

Pain Physician presents the latest studies, research, and information vital to those in the emerging specialty of interventional pain management – and critical to the people they serve.
---
Current issue highlights: (March 2019, Volume 22, Issue 2)
Manipulation and Mobilization for Treating Chronic Nonspecific Neck Pain: A Systematic Review and Meta-Analysis for an Appropriateness Panel
Systematic Review
Ian D. Coulter, PhD, Cindy Crawford, BA, Howard Vernon, DC. PhD, Eric L. Hurwitz, DC. PhD, Raheleh Khorsan, PhD, Marika Suttorp Booth, MS, and Patricia M. Herman, ND, PhD.
Adverse Outcomes Associated with Prescription Opioids for Acute Low Back Pain: A Systematic Review and Meta-Analysis
Systematic Review
Nitika Sanger, HBSc, Meha Bhatt, MSc, Nikhita Singhal, BHSc, Katherine Ramsden, MD, Natasha Baptist-Mohseni, BSc, Balpreet Panesar, BSc, Hamnah Shahid, BASc, Alannah Hillmer, BSc, Alessia D'Elia, BSc, Candice Luo, BHSc, Victoria Rogers, BSc, Abirami Arunan, HBSc, Lola Baker-Beal, BSc, Sean Haber, BSc, Jihane Henni, BSc, Megan Puckering, BSc, Sunny Sun, BSc, Kim Ng, BSc, Stephanie Sanger, MLIS, Natalia Mouravaska, MD, M. Constantine Samaan, MD, Russell de Souza, ScD, Lehana Thabane, PhD, and Zainab Samaan, PhD.
A Prospective Randomized Comparison of the Efficacy of Ultrasound- vs Fluoroscopy-Guided Genicular Nerve Block for Chronic Knee Osteoarthritis
Randomized Trial
Doo-Hwan Kim, MD, Myung-Su Lee, MD, Sookyung Lee, MD, Syn-Hae Yoon, MD, Jin-Woo Shin, MD, PhD, and Seong-Soo Choi, MD, PhD.
Radiofrequency Thermoablation of the Gasserian Ganglion Versus the Peripheral Branches of the Trigeminal Nerve for Treatment of Trigeminal Neuralgia: A Randomized, Control Trial
Randomized Controlled Trial
Neerja Bharti, MD, John Sujith, MD, Navneet Singla, Mch, Nidhi B. Panda, MD, and Indu Bala, MD.
Usage of Intravenous Lidocaine Infusion with Enhanced Recovery Pathway in Patients Scheduled for Open Radical Cystectomy: A Randomized Trial
Randomized Controlled Trial
Seham M. Moeen, MD, and Ahmed M. Moeen, MD.
Development and Validation of a Screening Tool for Surgery-Specific Neuropathic Pain: Neuropathic Pain Scale for Postsurgical Patients
Literature Review
Mathias Kvist Mejdahl, MD, Karl Bang Christensen, PhD, and Kenneth Geving Andersen, MD, PhD.
Toxicity Effects of Methylene Blue on Rat Intervertebral Disc Annulus Fibrosus Cells
Basic Science
Liang Zhang, MD, PhD, Yang Liu, MD, Zenan Huang, MD, Liping Nan, MD, Feng Wang, MD, Shifeng Zhou, MD, Jingcheng Wang, MD, PhD, and Xinmin Feng, MD.
A Prospective Comparison of CT-Epidurogram Between Th1-Transforaminal Epidural Injection and Th1/2-Parasagittal Interlaminar Epidural Injection for Cervical Upper Limb Pain
Prospective Study
Keiji Hashizume, MD, PhD, Aki Fujiwara, MD, Keisuke Watanabe, MD, PhD, Masahito Kamihara, MD, PhD, Shohei Iwasaki, MD, and Hiroaki Yamagami, MD, PhD.
Office-Based Kyphoplasty: A Viable Option Using Local Anesthesia with Oral Sedation
Observational Study
Phillip R. Worts, MS, and Gilbert S. Chandler III, MD.
Using Percutaneous Endoscopic Outside-In Technique to Treat Selected Patients with Refractory Discogenic Low Back Pain
Prospective Study
Keng-Chang Liu, MD, Shyi-Kuen Yang, PhD, Bor-Rung Ou, PhD, Min-Hong Hsieh, MD, Chih-En Tseng, MD, Chia-wei Chang, MD, and Shih-Hao Chen, MD.