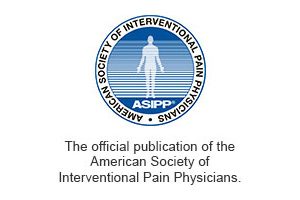 Editor-in-Chief: Alan David Kaye, MD, PhD
Managing Editor: Bert Fellows, MA
Pain Physician is the official publication of the American Society of Interventional Pain Physicians (ASIPP). The open access journal is published 6 times a year.

Pain Physician is a peer-reviewed, multi-disciplinary, open access journal written by and directed to an audience of interventional pain physicians, clinicians and basic scientists with an interest in interventional pain management and pain medicine.

Pain Physician presents the latest studies, research, and information vital to those in the emerging specialty of interventional pain management – and critical to the people they serve.
---
Epidural Guidelines Facet Joint Guidelines IPM Guidelines Regenerative Medicine Guidelines OPIOID Guidelines Risk Stratification Guideline Antithrombotic Guidelines Sedation Guidelines Triaging Guideline
Current issue highlights: (August 2021, Volume 24, Issue 5)
Spinal Cord Stimulation Trends of Utilization and Expenditures in Fee-For-Service (FFS) Medicare Population from 2009 to 2018
Expenditure Analysis
Laxmaiah Manchikanti, MD, Vidyasagar Pampati, MSc, Brahma Prasad Vangala, MBBS, Amol Soin, MD, Mahendra R. Sanapati, MD, Srinivasa Thota, MD, and Joshua A. Hirsch, MD.
Pain and Opioid Use in Cancer Survivors: A Practical Guide to Account for Perceived Injustice
Narrative Review
Jo Nijs, PhD, Eva Roose, MSc, Astrid Lahousse, MSc, Kenza Mostaqim, MSc, Iris Reynebeau, MSc, Marijke De Couck, PhD, David Beckwee, MSc, Eva Huysmans, MSc, Rinske Bults, MSc, Paul van Wilgen, PhD, and Laurence Leysen, PhD.
The Effect of Social Isolation During the COVID-19 Pandemic on Patients with Chronic Low Back Pain Who Underwent a Spine Intervention
Prospective Study
Ayca Uran San, MD, Serdar Kesikburun, MD, and Kutay Tezel, MD.
Characteristics of Hospitalized Adults with Opioid Use Disorder in the United States: Nationwide Inpatient Sample
Retrospective Study
Brook T. Alemu, PhD, Olaniyi Olayinka, MD, and Brian C. Martin, PhD.
Nutrition/Dietary Supplements and Chronic Pain in Patients with Cancer and Survivors of Cancer: A Systematic Review and Research Agenda
Systematic Review
Sevilay Tumkaya Yilmaz, MSc, Ömer Elma, MSc, Tom Deliens, PhD, Iris Coppieters, PhD, Peter Clarys, PhD, Jo Nijs, PhD, and Anneleen Malfliet, PhD.
Benefits of Transversus Abdominis Plane Block on Postoperative Analgesia after Bariatric Surgery: A Systematic Review and Meta-Analysis
Systematic Review
Chenchen Tian, MD, Yung Lee, MD, Yvgeniy Oparin, MD, Dennis Hong, MD, and Harsha Shanthanna, MD, PhD.
Long-term Efficacy of Percutaneous Epidural Neurolysis of Adhesions in Chronic Lumbar Radicular Pain: 10 Year Follow-up of a Randomized Controlled Trial
Randomized Trial
Ludger Gerdesmeyer, MD, PhD, Carl Noe, MD, Alexander Prehn-Kristensen, PhD, Norbert Harrasser, MD, Munjed Al Muderis, MD, Matthias Weuster, MD, and Tim Klueter, MD.
Utilizing Multidisciplinary Medicine in Pain Management: A Narrative Review
Narrative Review
Gilbert Chandler III, MD, Alexis M. Rojas, MSW, Phillip R. Worts, PhD, and Heather A. Flynn, PhD.
Celiac Plexus Block – An Old Technique with New Developments
Descriptive Review
Saurabh Vig, MD, Swati Bhan, MD, and Sushma Bhatnagar, MD.
Increase your Confidence in Opioid Prescribing: Marketing Messages in Continuing Medical Education Activities on ER/LA Opioids
Thematic Analysis
Benjamin Goodwin, MS, Hwa-Pyung (David) Lim, MS, Judy Butler, MS, Daniel Paglia, MS, Matthew T. Dempsey, MS, Bonnie O'Connor, PhD, and Adriane Fugh-Berman, MD.
Epidural Injections for Lumbar Radiculopathy or Sciatica: A Comparative Systematic Review and Meta-Analysis of Cochrane Review
Systematic Review
Laxmaiah Manchikanti, MD, Emilija Knezevic, ., Nebojsa Nick Knezevic, MD, PhD, Mahendra R. Sanapati, MD, Srinivasa Thota, MD, Alaa Abd-Elsayed, MD, and Joshua A. Hirsch, MD.