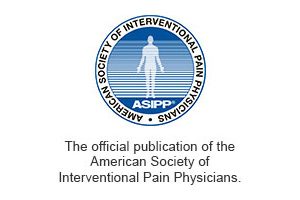 Editor-in-Chief: Alan David Kaye, MD, PhD
Managing Editor: Bert Fellows, MA
Pain Physician is the official publication of the American Society of Interventional Pain Physicians (ASIPP). The open access journal is published 6 times a year.

Pain Physician is a peer-reviewed, multi-disciplinary, open access journal written by and directed to an audience of interventional pain physicians, clinicians and basic scientists with an interest in interventional pain management and pain medicine.

Pain Physician presents the latest studies, research, and information vital to those in the emerging specialty of interventional pain management – and critical to the people they serve.
---
OPIOID Guidelines IPM Guidelines Facet Joint Guidelines Regenerative Medicine Guidelines Risk Stratification Guideline Antithrombotic Guidelines Sedation Guidelines
Current issue highlights: (January 2021, Volume 24, Issue 1)
Declining Utilization and Inflation-Adjusted Expenditures for Epidural Procedures in Chronic Spinal Pain in the Medicare Population
Health Services Research
Laxmaiah Manchikanti, MD, Vidyasagar Pampati, MSc, Amol Soin, MD, Mahendra R. Sanapati, MD, Alan D. Kaye, MD, PhD, and Joshua A. Hirsch, MD.
Declining Utilization Patterns of Percutaneous Adhesiolysis Procedures in the Fee-For-Service (FFS) Medicare Population
Health Services Research
Laxmaiah Manchikanti, MD, Radomir Kosanovic, MD, Vidyasagar Pampati, MSc, and Alan D. Kaye, MD, PhD.
Patterns of Long-Term Prescription Opioid Use Among Older Adults in the United States: A Study of Medicare Administrative Claims Data
Health Services Research
Sujith Ramachandran, PhD, Monika Salkar, MS, John P. Bentley, PhD, Ike Eriator, MD, and Yi Yang, MD, PhD.
Is Epidural Injection of Sodium Chloride Solution a True Placebo or an Active Control Agent? A Systematic Review and Meta-Analysis
Meta-Analysis
Laxmaiah Manchikanti, MD, Nebojsa Nick Knezevic, MD, PhD, Jaya Sanapati, MD, Alan D. Kaye, MD, PhD, Mahendra R. Sanapati, MD, and Joshua A. Hirsch, MD.
Mind-Body Interventions for Depressive Symptoms in Chronic Pain: A Systematic Review of Meta-Analyses
Systematic Review
Abhimanyu Sud, MD, Ka Sing Paris Lai, MD, Darren Kai-Young Cheng, MSc, Chadwick Chung, DC, Oscar Javier Pico-Espinosa, MD, and Danielle B. Rice, MSc.
Relative Efficacy and Safety of Pharmacotherapeutic Interventions for Diabetic Peripheral Neuropathy: A Systematic Review and Bayesian Network Meta-Analysis
Systematic Review
Mir Mahmood Asrar, MPharm, Sunita Kumari, MPharm, Boya Chandra Sekhar, MPharm, Anil Bhansali, MD, and Dipika Bansal, MD.
Ultrasound-Guided Regional Anesthesia Using a Head-Mounted Video Display: A Randomized Clinical Study
Randomized Clinical Study
Rene Przkora, MD, PhD, Juan Mora, MD, Pavel Balduyeu, MD, Matthew Meroney, MD, Terrie Vasilopoulos, PhD, and Daneshvari Solanki, MD.
The Efficacy and Safety of the Application of Pulsed Radiofrequency, Combined With Low-Temperature Continuous Radiofrequency, to the Gasserian Ganglion for the Treatment of Primary Trigeminal Neuralgia: Study Protocol for a Prospective, Open-Label, Parall
Randomized Controlled Study
Hao Ren, MD, Chunmei Zhao, MD, Xiaodi Wang, MD, Ying Shen, MD, Lan Meng, MD, and Fang Luo, MD.