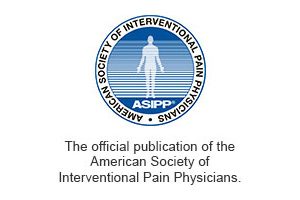 Editor-in-Chief: Alan David Kaye, MD, PhD
Managing Editor: Bert Fellows, MA
Pain Physician is the official publication of the American Society of Interventional Pain Physicians (ASIPP). The open access journal is published 6 times a year.

Pain Physician is a peer-reviewed, multi-disciplinary, open access journal written by and directed to an audience of interventional pain physicians, clinicians and basic scientists with an interest in interventional pain management and pain medicine.

Pain Physician presents the latest studies, research, and information vital to those in the emerging specialty of interventional pain management – and critical to the people they serve.
---
Epidural Guidelines Facet Joint Guidelines IPM Guidelines Regenerative Medicine Guidelines OPIOID Guidelines Risk Stratification Guideline Antithrombotic Guidelines Sedation Guidelines Triaging Guideline
Current issue highlights: (March 2021, Volume 24, Issue 2)
Infections Following Interventional Spine Procedures: A Systematic Review
Systematic Review
Kristen Santiago, BA, Jennifer Cheng, PhD, Bridget Jivanelli, MLIS, and Gregory Lutz, MD.
Peripheral Nerve Stimulation in Pain Management: A Systematic Review
Systematic Review
Jijun Xu, MD, PhD, Zhuo Sun, MD, Jiang Wu, MD, Maunak Rana, MD, Joshua Garza, MD, Alyssa C. Zhu, MD, Krishnan V. Chakravarthy, MD, PhD, Alaa Abd-Elsayed, MD, Ellen Rosenquist, MD, Hersimren Basi, MD, Paul Christo, MD, and Jianguo Cheng, MD, PhD.
Efficacy of Genicular Nerve Radiofrequency Ablation Versus Intra-Articular Platelet Rich Plasma in Chronic Knee Osteoarthritis: A Single-Blind Randomized Clinical Trial
Randomized Clinical Trial
Abdelraheem Elawamy, MD, Emad Zarief Kamel, MD, Safaa A. Mahran, MD, Hebatallah Abdellatif, MD, and Manal Hassanien, MD.
Effectiveness of Dry Needling with Percutaneous Electrical Nerve Stimulation of High Frequency Versus Low Frequency in Patients with Myofascial Neck Pain
Randomized Trial
Jose Vicente Leon Hernandez, PhD, Cesar Calvo-Lobo, PhD, Aitor Martin-Pinado Zugasti, PhD, Josue Fernandez-Carnero, PhD, and Hector Beltran Alacreu, PhD.
Efficacy and Safety of Radiofrequency Thermocoagulation with Different Puncture Methods for Treatment of V1 Trigeminal Neuralgia: A Prospective Study
Randomized Clinical Trial
Tingting Wang, MD, Saijun Xu, MD, Qiuli He, MD, Jiachun Tao, MD, Huadong Ni, PhD, Jianjun Zhu, MD, Ge Luo, MD, Jie Fu, MD, and Keyue Xie, MD.
Changes of Opioid Consumption After Lumbar Fusion Using Ultrasound-Guided Lumbar Erector Spinae Plane Block: A Randomized Controlled Trial
Randomized Trial
Lijun Zhu, MS, Mingcang Wang, BS, Xiaodan Wang, MS, Yu Wang, BS, Lingyang Chen, MS, and Jun Li, PhD.
Receptor and Molecular Targets for the Development of Novel Opioid and Non-Opioid Analgesic Therapies
Narrative Review
Rosalyn Chen, BA, O.J. Michael Coppes, MD, and Richard D. Urman, MD.
Patients with Chronic Pain Prefer Maintenance of Pain Treatment Despite COVID-19 Pandemic Restrictions
Prospective Study
Barbara Kleinmann, MD, Birgit Abberger, PhD, Kristin Kieselbach, MD, and Tilman Wolter, MD.
Insulin Resistance is Associated with Central Pain in Patients with Fibromyalgia
Observational Study
Miguel A. Pappolla, MD, PhD, Laxmaiah Manchikanti, MD, Kenneth D. Candido, MD, Nigel Grieg, PhD, Michael Seffinger, DO, Fauwad Ahmed, MD, Xiang Fang, MD, PhD, Clark Andersen, MS, and Andrea M. Trescot, MD.