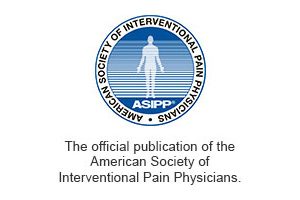 Editor-in-Chief: Alan David Kaye, MD, PhD
Managing Editor: Bert Fellows, MA
Pain Physician is the official publication of the American Society of Interventional Pain Physicians (ASIPP). The open access journal is published 6 times a year.

Pain Physician is a peer-reviewed, multi-disciplinary, open access journal written by and directed to an audience of interventional pain physicians, clinicians and basic scientists with an interest in interventional pain management and pain medicine.

Pain Physician presents the latest studies, research, and information vital to those in the emerging specialty of interventional pain management – and critical to the people they serve.
---
OPIOID Guidelines IPM Guidelines Regenerative Medicine Guidelines Antithrombotic Guidelines Sedation Guidelines
Current issue highlights: (January 2020, Volume 23, Issue 1)
Prescription Drugs and the US Workforce: Results from a National Safety Council Survey
Survey
Alaa Abd-Elsayed, MD, Mathew Fischer, MD, Jonathan Dimbert, MS, and Kenneth James Fiala, BS.
Demographic Factors Associated with Patient-Reported Outcome Measures in Pain Management
Patient Survey
Jihad Abdelgadir, MD, Edmund W. Ong, PhD, Salma M. Abdalla, MD, John C. Hunting, MPH, Mohamed Mustafa Diab, MD, Michael M. Haglund, MD, PhD, C. Rory Goodwin, MD, PhD, Amanda Nelli, MD, and Padma Gulur, MD.
Pulsed Radiofrequency on Thoracic Dorsal Root Ganglion Versus Thoracic Paravertebral Nerve for Chronic Postmastectomy Pain, A Randomized Trial: 6-Month Results
Randomized Trial
Diab Fuad Hetta, MD, Sahar Abdel Baky Mohamed, MD, Kawser Hofny Mohamed, MD, Taha Abd Elrazek Mahmoud, MD, and Hanan Ahmed Eltyb, MD.
Effects of Intraoperative Low-Dose Ketamine on Persistent Postsurgical Pain after Breast Cancer Surgery: A Prospective, Randomized, Controlled, Double-Blind Study
Randomized Trial
Christine Kang, MD, Ah-Reum Cho, MD, PhD, Kyung-Hoon Kim, MD, PhD, Eun-A Lee, MD, Hyeon Jeong Lee, MD, PhD, Jae-Young Kwon, MD, PhD, Haekyu Kim, MD, PhD, Eunsoo Kim, MD, PhD, Ji-Seok Baik, MD, PhD, and Choongrak Kim, MD, PhD.
Percutaneous Endoscopic Lumbar Discectomy: Indications and Complications
Literature Review
Mingming Pan, MD, Qifan Li, MD, Sucheng Li, MD, Haiqing Mao, PhD, Bin Meng, PhD, Feng Zhou, PhD, and Huilin Yang, PhD.
Oral Versus Intravenous Acetaminophen within an Enhanced Recovery after Surgery Protocol in Colorectal Surgery
Retrospective Study
Joseph H. Marcotte, MD, Kinjal M. Patel, MD, John P. Gaughan, PhD, Justin Dy, ., Michael E. Kwiatt, MD, Steven J. McClane, MD, and Ronak G. Desai, DO.
Delayed Initiation of Supplemental Pain Management is Associated with Postherpetic Neuralgia: A Retrospective Study
Retrospective Study
Xiufang Xing, MD, Kai Sun, MD, and Min Yan, MD.
Author Submission Guidelines
Guidelines
ASIPP, .