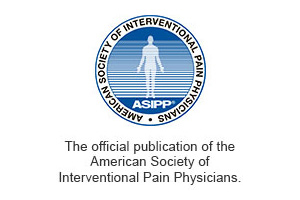 Editor-in-Chief: Alan David Kaye, MD, PhD
Managing Editor: Fellows Bert, MA
Pain Physician is the official publication of the American Society of Interventional Pain Physicians (ASIPP). The journal is published 8 times a year beginning in 2016.
Pain Physician is a peer-reviewed, multi-disciplinary journal written by and directed to an audience of interventional pain physicians, clinicians and basic scientists with an interest in interventional pain management and pain medicine.
Pain Physician presents the latest studies, research, and information vital to those in the emerging specialty of interventional pain management – and critical to the people they serve.
---
Current issue highlights: (July 2016, Volume 19, Issue 6)
An Overview of Offset Analgesia and the Comparison with Conditioned Pain Modulation: A Systematic Literature Review
Systematic Review
Linda Hermans, MSc, Patrick Calders, PhD, Jessica Van Oosterwijck, PhD, Ellen Verschelde, MSc, Eva Bertel, MSc, and Mira Meeus, PhD.
Particulate vs Non-Particulate Steroids for Transforaminal Epidural Steroid Injections: Systematic Review and Meta-analysis of the Current Literature
Systematic Review
Jeetinder Kaur Makkar, MD, DNB , Preet Mohinder Singh, MD, DNB, Divya Jain, MD, and Basavana Goudra, MD, FRCA, FCARSI.
Synergistic Effect of Intravenous Ibuprofen and Hydromorphone for Postoperative Pain: Prospective Randomized Controlled Trial
Randomized Trial
Eun Jung Oh, MD, Hyun Joo Ahn, MD, PhD, Woo Seog Sim, MD, PhD, and Jin Young Lee, MD, PhD.
A Randomized Trial Comparing the Safety and Efficacy of Intravenous Ibuprofen versus Ibuprofen and Acetaminophen in Knee or Hip Arthroplasty
Randomized Trial
Anita Gupta, DO, PharmD, Hawa Abubaker, MD, Eleni Demas, BS, and Leigh Ahrendtsen, BS.
The Potential Impact of Venobasillar System Morphology and Applied Technique on Epidural Cement Leakage with Percutaneous Vertebroplasty
Randomized Trial
Andrey Bokov, PhD, Sergey Mlyavykh, PhD, Alexander Aleynik, MD, Marina Kutlaeva, PhD, and Greg Anderson, MD.
Iliocostalis Thoracis-Lumborum Myofascial Pain: Reviewing a Subgroup of a Prospective, Randomized, Blinded Trial. A Challenging Diagnosis with Clinical Implications
Observational Report
Carlos J. Roldan, MD, FACEP, FAAEM, and Billy K Huh, MD, PhD.
Two-Year Outcome of Percutaneous Bipolar Radiofrequency Neurotomy of Sacral Nerves S2 and S3 in Spinal Cord Injured Patients with Neurogenic Detrusor Overactivity: A Randomized Controlled Feasibility Study
Randomized Trial
Hae Min Jo, MD, Hyo Sung Kim, MD, Yun-Woo Cho, MD, PhD, and Sang-Ho Ahn, MD, PhD.
Intrathecal Dexmedetomidine, Ketamine, and their Combination Added to Bupivacaine for Postoperative Analgesia in Major Abdominal Cancer Surgery
Randomized Trial
Sahar Abd-Elbaky Mohamed, MD, Ahmad Mohammad Abd El-Rahman, MD, and Khaled M. Fares, MD.
A New Look on Adding Dexamethasone as an Adjuvant to Caudal Bupivacaine; Efficacy on Postoperative Pain and Vomiting in Pediatric Patients
Randomized Trial
Sayed Kaoud Abd-Elshafy, MD, Amany Makram Yacoup, MBBCh, Esam Eldein Mohamed Abdalla, MD, Tarek Taha Hanafy El-Melegy, MD, and Kelani Ali Abd-Elsalam, MD.
Resorption of Massive Lumbar Disc Herniation on MRI Treated with Epidural Steroid Injection: A Retrospective Study of 28 Cases
Retrospective Evaluation
Sung-Jun Hong, MD, Dae Yu Kim, MD, Hyunju Kim, MD, Seok Kim, MD, Keun-Man Shin, MD, and Sang-Soo Kang, MD.
Effect of Epidural Steroid Injection on Bone Mineral Density in Postmenopausal Women According to Antiosteoporotic Medication Use
Retrospective Analysis
Young Uk Kim, MD, Myung Hwan Karm, MD, Yuseon Cheong, MD, Jonghyuk Lee, MD, Yu Gyeong Kong, MD, Se Hun Kim, MD, and Jeong Hun Suh, MD, PhD.
Effectiveness of Splanchnic Nerve Neurolysis for Targeting Location of Cancer Pain: Using the Pain Drawing as an Outcome Variable
Observational Report
Diane M. Novy, PhD, Mitchell P Engle, MD, PhD, Emily A. Lai, BBA, Christina Cook, BS, Emily C. Martin, PhD, Lisa Trahan, PhD, Jun Yu, MS, and Dhanalakshmi Koyyalagunta, MD.
Stimulation of the Spinal Cord and Dorsal Nerve Roots for Chronic Groin, Pelvic, and Abdominal Pain
Prospective Evaluation
Adrian B. Levine, BSc, Andrew G. Parrent, MD, FRCSC, and Keith W. MacDougall, MD, FRCSC.
Short-Term Therapeutic Efficacy of the Isobar TTL Dynamic Internal Fixation System for the Treatment of Lumbar Degenerative Disc Diseases
Observational Report
Jiale Qian, MD, Zhaohua Bao, MD, Xuefeng Li, MD, Jun Zou, MD, and Huilin Yang, MD.
Ultrasound-Guided Quadratus Femoris Muscle Injection in Patients with Lower Buttock Pain: Novel Ultrasound-Guided Approach and Clinical Effectiveness
Retrospective Evaluation
Do-Hyeong Kim, MD, Duck Mi Yoon, MD, PhD, and Kyung Bong Yoon, MD, PhD.