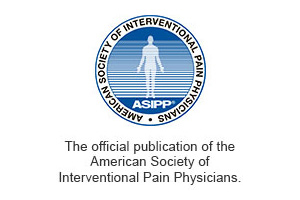 Editor-in-Chief: Alan David Kaye, MD, PhD
Managing Editor: Fellows Bert, MA
Pain Physician is the official publication of the American Society of Interventional Pain Physicians (ASIPP). The journal is published 6 times a year.
Pain Physician is a peer-reviewed, multi-disciplinary journal written by and directed to an audience of interventional pain physicians, clinicians and basic scientists with an interest in interventional pain management and pain medicine.
Pain Physician presents the latest studies, research, and information vital to those in the emerging specialty of interventional pain management – and critical to the people they serve.
---
Current issue highlights: (November 2017, Volume 20, Issue 7)
Reversal of Growth of Utilization of Interventional Techniques in Managing Chronic Pain in Medicare Population Post Affordable Care Act
Health Policy Review
Laxmaiah Manchikanti, MD, Amol Soin, MD, Dharam P Mann, MD, Sanjay Bakshi, MD, Vidyasagar Pampati, MSc, and Joshua A. Hirsch, MD.
Optimization of Postoperative Intravenous Patient-Controlled Analgesia with Opioid-Dexmedetomidine Combinations: An Updated Meta-Analysis with Trial Sequential Analysis of Randomized Controlled Trials
Systematic Review
Ke Peng, MD, Juan Zhang, MD, Xiao-wen Meng, PhD, Hua-yue Liu, MD, and Fu-hai Ji, MD.
Music-Induced Analgesia in Chronic Pain Conditions: A Systematic Review and Meta-Analysis
Systematic Review
Eduardo A. Garza-Villereal, MD, Victor Pando, MD, Peter Vuust, PhD, and Christine Parsons, PhD.
Mapping the Association between Vitamin D and Low Back Pain: A Systematic Review and Meta-Analysis of Observational Studies
Systematic Review
Joshua Zadro, BAppSc, Debra Shirley, PhD, Manuela Ferreira, PhD, Ana Paula Carvalho-Silva, MSc, Sarah E. Lamb, PhD, Cyrus Cooper, PhD, and Paulo H. Ferreira, PhD.
Efficacy of Magnesium Sulfate Added to Local Anesthetic in a Transversus Abdominis Plane Block for Analgesia Following Total Abdominal Hysterectomy: A Randomized Trial
Randomized Trial
Kelany A. Abd-Elsalam, MD, Khaled M. Fares, MD, Montaser A. Mohamed, MD, Mohamed F Mohamed, MD, Ahmad M Abd El-Rahman, MD, and Moaaz M. Tohamy, MSc.
The Efficacy of Preoperative Gabapentin in Spinal Surgery: A Meta-Analysis of Randomized Controlled Trials
Randomized Trial
Chao Han, MD, Ming-jie Kuang, MD, Jian-xiong Ma, PhD, and Xin-long Ma, MD.
Endoscopic Epidural Laser Decompression Versus Transforaminal Epiduroscopic Laser Annuloplasty for Lumbar Disc Herniation: A Prospective, Randomized Trial
Randomized Trial
Chang Hong Park, MD, PhD, and Sang Ho Lee, MD, PhD.
Dexamethasone and Dexmedetomidine as an Adjuvant to Intraarticular Bupivacaine for Postoperative Pain Relief in Knee Arthroscopic Surgery: A Randomized Trial
Randomized Trial
Seham M. Moeen, MD, Islam K. Ramadan, MD, and Hesham A. Elkady, MD.
Hypothalamic Pituitary Adrenocortical Axis Suppression following a Single Epidural Injection of Methylprednisolone Acetate
Prospective Study
Aleem Jameel Abdul, MD, Babita Ghai, MD, DNB, Dipika Bansal, MD, DM, Naresh Sachdeva, MSc, PhD, Anil Bhansali, MD, and Saravdeep Singh Dhatt, MS.
Current Impact and Application of Abuse-Deterrent Opioid Formulations in Clinical Practice
Literature Review
Ya-Han Lee, MS, Daniel L. Brown, PharmD, and Hsiang-Yin Chen, MS, PharmD.
Decreased Regional Grey Matter Volume in Women with Chronic Whiplash-Associated Disorders: Relationships with Cognitive Deficits and Disturbed Pain Processing
Cross-Sectional Study
Iris Coppieters, PhD, Robby De Pauw, MSc, Karen Caeyenberghs, PhD, Lieven Danneels, PhD, Jeroen Kregel, PhD, Astrid Pattyn, MSc, Mira Meeus, PhD, and Barbara Cagnie, PhD.
The Hopeless Case? Palliative Cryoablation and Cementoplasty Procedures for Palliation of Large Pelvic Bone Metastases
Retrospective Study
Tyler M. Coupal, MD, Kevin Pennycooke, MD, Paul I. Mallinson, MBChB, FRCR, Hugue A. Ouellette, MD, Paul W. Clarkson, MD, Pippa Hawley, BMed, FRCPC, and Peter L. Munk, MDCM, FRCPC, FSIR.
Sacroplasty: A Ten-Year Analysis of Prospective Patients Treated with Percutaneous Sacroplasty: Literature Review and Technical Considerations
Prospective Study
Michael E. Frey, MD, Christopher Warner, MD, Samuel M. Thomas, BS, Karan Johar, MD, Heathpaul Singh, BS, Maheen S. Mohammad, BS, and Douglas P. Beall, MD.
Loss of Efficacy to Spinal Cord Stimulator Therapy: Clinical Evidence and Possible Causes
Retrospective Study
Christopher M. Aiudi, PharmD, Roger Y. Dunn, BS, MBA, Sara M. Burns, MS, Sarah A. Roth, BS, Arissa Opalacz, BA, Yi Zhang, MD, PhD, Lucy Chen, MD, Jianren Mao, MD, PhD, and Shihab U. Ahmed, MBBS, MPH.
Analysis of Reporting Bias in Vertebral Augmentation
Perspective Analysis
Douglas P. Beall, MD, Sean M. Tutton, MD, Kieran Murphy, MD, Wayne Olan, MD, Christopher Warner, MD, and Jack B. Test, BS.